"Who's awesome? Your awesome."- Awesomeezeh to a mirror.

Awesomeezeh's only known relative is her sister Bookzeh. Awesomeezeh is female, awesome, brunnete (as if she could be blonde, pfft!), tall, nice and A.W.E.S.O.M.E. Awesomeezeh likes to go by the title 'Queen of Randomness', and loves randomness so much that she blurts out random phrases at random times (very much the same as her sister Bookzeh). Besides Bookzeh, she is the biggest book lover in the Beegee Universe.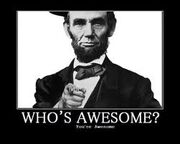 Her favorite book is one of Bookzehs least favorites, 'The Book Thief'. She also likes 'Harry Potter', but not as much as Bookzeh.
Awesomeegee is also Timeegee's (Chroneegee's son) crush, and Euphoreegee's and Violenteegee's best friend.
Ad blocker interference detected!
Wikia is a free-to-use site that makes money from advertising. We have a modified experience for viewers using ad blockers

Wikia is not accessible if you've made further modifications. Remove the custom ad blocker rule(s) and the page will load as expected.