Athleegee was the fastest runner in his school, The Ceegee School, and the best at just about every single sport in his school. Jeegee saw his talents, so he brought him to the Beegee Military School. He excelled in the training and became the director and owner of the school, when Beegee and Jeegee went to war with the Murkekows. After Athleegee died he was ressurected and became Athleegee II, betraying Beegee and joining Balleo.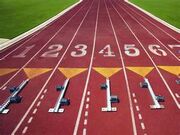 Ad blocker interference detected!
Wikia is a free-to-use site that makes money from advertising. We have a modified experience for viewers using ad blockers

Wikia is not accessible if you've made further modifications. Remove the custom ad blocker rule(s) and the page will load as expected.